Store Keeper, Packing Worker, Supervisor & Driver Jobs in Qatar
Number of Vacancies:
Multiple vacancies offered.
Job Announced on:
25/01/2019
Deadline to Apply
20/11/2020
Job Title
Store Keeper, Packing Worker, Supervisor, Loader, Driver, Office Boy, Watchman, Cleaner, Helper, Cook Jobs
Job Experience
Experience 0 & 3 Years
Job Qualification
Metric, Intermediate, Bachelors.
Age Requirement
18 – 58
Salary
Attractive salary package
City
Qatar
Country
Qatar
Duty Hours:
8 hours
Gender:
Both Male & Female candidates can apply
Facilities offered by the company
Free Living
Free transport
Free medical
Application procedure
As explained in newspaper ad
Newspaper ad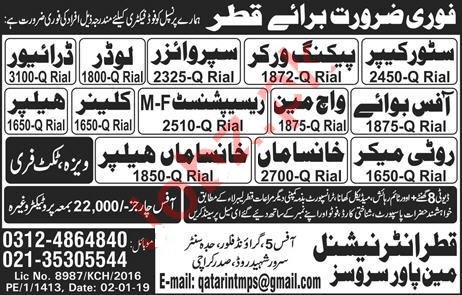 Disclaimer:
We are not offering visas, we collect these visa ads from daily newspapers and publish them on website for our valued users.