Canada student visa requirements
The Canadian government has developed a strategy not only to attract foreign students, but to allow them to stay and build careers in Canada. Canada offers the world's best study programs and is home to some of the world's leading research facilities and academic institutions. Originally the government goal was to attract 450,000 international students by 2022, but Canada beat that target at the end of 2017, when there were 494,525 study permit holders across all levels of study.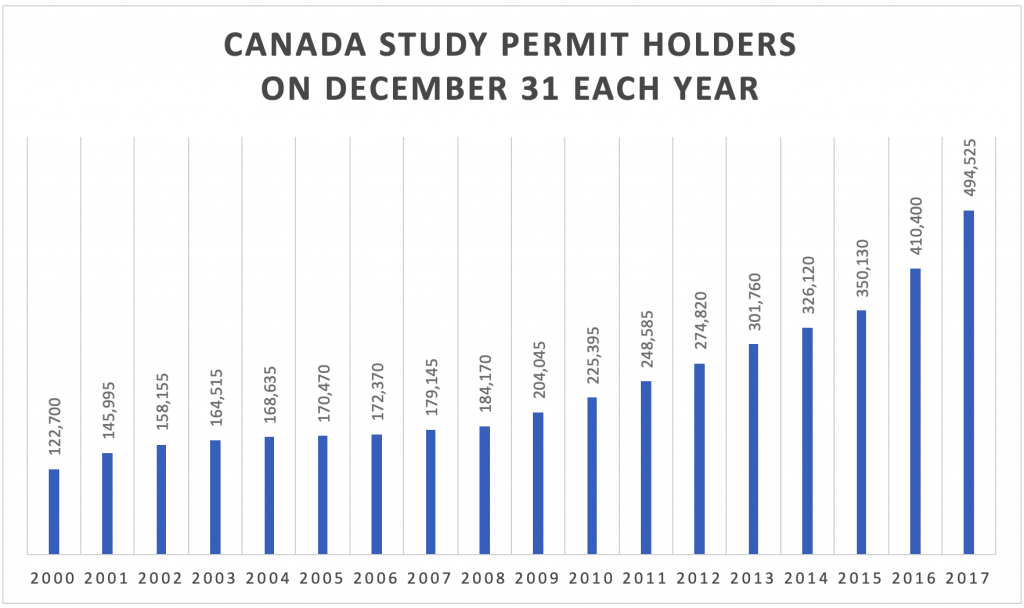 Canada Student Visa Process Step by Step
Step 1: Understand the Requirements
Students wishing to study in Canada should start planning for Canadian study permit at least a year in advance and must understand the Canada student visa rules. You must read and understand admission requirements for various Canadian institutions and the rules for obtaining a study permit. Common requirements for all universities and institutions include an updated passport, proficiency in either English or French along with proof of passing prescribed language tests with minimum grades/bands, and proof that you can finance your study as well as the cost of living in the country.
Step 2: Choose your Course and Institution
Only admission to a Designated Learning Institute (DLIs) qualify an international student for Canadian study visa. Therefore be sure that the institution your are applying to is listed on the government's DLIs. As well, it is advisable to have chosen a specific major course when applying for study visa, although you may switch courses later.
Step 3: Take the Language Proficiency Test
Every international student is required to prove proficiency in English or French. To prove language proficiency, each applicant must take an International English Language Testing System (IELTS) exam, a Canadian English Language Proficiency Index Program (CELPIP) exam, Test d'Evaluation Français (TEF) exam, or Test de connaissance du français pour le Canada (TCF Canada). Some institutions also accept the Cambridge English: Advanced or TOEFL exam score.
Step 4: Apply to Universities
It is possible to take this step during Step 3 or even earlier. But this is the point when you contact your chosen institution (from the Designated Learning Institute list), obtain their application packs, and submit them well in advance. See also Find Universities in Canada. As application fees range between $100 to $250 per institution you may want to apply to only the top 5 on your list.
To avoid delay which may in turn impact your visa processing, make sure you provide complete and accurate information with all necessary documents. If satisfied with your application the institution will send you a letter of admission which you will need to process your study permit application.
Step 5: Apply for a Study Permit
Once you have an admission letter on hand from one of the DLIs you can now apply for your Canada Study Permit or student visa. You can apply online or visit your local visa application centre. Your application must be accompanied by the following:
admission letter
your passport, and
documentary proof that you have adequate finances to study in Canada
"Certificat d'acceptation du Québec" (CAQ) if you are going to a Quebec institution.

Step 6: Travelling to and entering Canada
If accepted, you will be issued a visa with a specified date from which the permit comes into force. This is the date you are allowed to enter Canada. Be sure to plan your travel only for entering Canada on that day.
Upon arriving in Canada at an port of entry, an immigration officer will verify your permit and other documents before allowing you to enter Canada. Once stamped you are on your way to pursue your studies in Canada.
Canada Study Permit Extension
There are two ways you can apply: online and by paper.
Processing time
Online: 53 days
Paper: 98 days
Processing time is the average for how long it takes from when an application is received to when CIC makes a decision. Learn more about processing times.
Apply online
No courier fees or mail delivery time – CIC gets your application instantly.
Avoid processing delays. Incomplete applications are returned to you. Applying online helps ensure your application is complete before you submit it.
If CIC needs to ask for more documents, you can quickly submit them online.
Get updates on the status of your application directly in your online account.
To apply online, you need a scanner or camera to create electronic copies of your documents, and a valid credit or debit card.
Apply to extend your study permit
Apply on paper
Download the application package
The package includes the application guide and all the forms you need to fill out.
If your permit has expired
If you are eligible, follow the instructions under How to extend your study permit, but:
on the form IMM 5709, under section 3 "I am applying for one or more of the following:", select both:
An initial study permit or extension of study permit, and
Restoration of temporary resident status as a student
Give details of your situation and the reason you stayed in Canada longer than allowed.

On your application, you must clearly and completely explain how you lost your status. There is no guarantee that CIC will accept your application.
If your family members have also lost their status, each must apply (and pay) to get it restored.
You may stay in Canada while we make a decision on your application. But, you aren't allowed to study until your status has been restored.
An officer will review your application and tell you what else you need to do.